by Julie Fletcher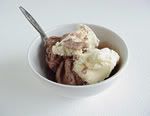 I promised some yummy desserts to pop into those lunchboxes! I found one recipe and I've 'designed' the other. Before I get to them, I want to talk about creativity and your child's lunch. If you want your child to eat the lunch you've so carefully prepared you should be creative in the presentation. Don't worry, it's nothing like the gourmet plating you see on cooking programs.
Kids love interesting foods, the texture, taste, and look all factor in. Knowing they have a delicious dessert to follow the interesting wrap or sandwich you packed will only make the whole meal more fun and interesting for them. Don't go overboard, though. Frilly ribbons to tie baggies shut might turn off your son. And his friends. Bright fruits, dips, and interesting containers will do the trick.
For really young kids, instead of a written note, try just drawing a happy one. A smiley face, a heart, a flower, or your best drawing of their favorite cartoon character can brighten up their day. A simple 'I love you' is the very best note to slip in. Try writing it on their juice box, the inside of their lunchbox lid, or in another unexpected place they'll be sure to see.
Now, on to dessert…
Want healthy and sweet? Try out a Banana Dog! Just pop a hot dog bun into a baggie that has been spread with peanut butter on one side and jam on the other and a small baggie of raisins, cocunut, or peanuts inside. When your child gets to the cafeteria all she has to do is peel the banana and place into the bun, then sprinkle with the extras. Neat, huh?
If you want seriously sweet…rather your child does, try candy bar brownies. This is so easy! Just whip up a bowl of pre-packaged brownie mix, line a muffin tin with cupcake liners, pour the cups 1/3 full. Place half of a snack sized candy bar in the middle, then cover with more brownie mix. Bake according to directions. You can use any snack size candy bar.
These are just two idea. How many can you come up with? Share!
This entry was posted on Friday, August 24th, 2007 at 9:48 pm and is filed under Uncategorized, Cooking, Healthy Eating. You can follow any responses to this entry through the RSS 2.0 feed. You can leave a response, or trackback from your own site.