by Julie Fletcher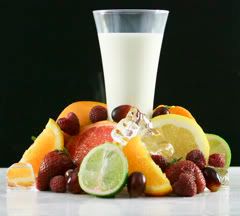 A well balanced diet is the best way to get kids full of the proper vitamins for their growth. Fish, fresh fruit and veggies, plus whole grains will help your children stay healthy. All of those foods have the right balance of nutrition when combined with other healthy choices.
But what if your child, or you, hate some or most of those foods? In that case, it is very easy to become deficient in nutrients the body needs to stay strong enough to prevent sickness and even bone breakage. Luckily there are many foods you and your kids can eat that will sneak in the vitamins and nutrients the body needs. Foods that are stuffed with the ever important calcium, vitamin A, and essential omega fatty acids.
Many people love to snack on salty or sweet crunchy foods. Pumpkin seeds can help fulfill this desire and be flavored so many different ways. With a toss of olive oil and seasoned to taste, it's so easy to make a crunchy snack! The combinations are infinite. I use a full pumpkin's worth of seeds that have been picked clean from the gourd, washed, then laid flat to dry. You can speed this process by using a paper towel. Then toss the seeds on a large bowl with about a tablespoon of olive oil if you have it, vegetable oil if you don't. Once covered well with the oil, sprinkle in some good sea salt, then choose your seasoning. My kids like them sweet so I try to add a little sugar for a 'kettle cooked' taste. Some adults love the Cajun flavors, so just sprinkle on about a teaspoon of Cajun seasoning to start.
These are only my ratios. You can use as much or as little as you'd like to satisfy your own taste. Experiment with other spices and herbs to make your own unique pumpkin seeds recipe.
I have been known to hide veggies into dishes you wouldn't normally find them. A few days ago I made a stir fry with very thinly sliced steak, a whole head of cabbage, a bag of spinach, onions, carrots, and a huge sweet red pepper. Oh, and mushrooms. I used an electric wok and cooked the very thinly cut steak first. After that, I just dumped in the other ingredients, turned the wok to low and let it go until everything was soft. A small dash of sugar and a few shots of soy sauce made this dish taste slightly Asian, but not too strongly. Because of the way the veggies were sliced the kids assumed they were noodles. Go figure!
If you have a juicer, you're ahead of the game. You can add a little vegetable juice into fruit juice, or to put into a soup stock instead of chicken broth. Try it in breads instead of water for a vitamin boost to your grains. Simmer rice in a water and veggie juice mix to help replace the vitamins that were lost when white rice was milled.
If you're creative, you can find so many ways to sneak healthy foods into your children or yourself. Maybe even into a reluctant spouse. For more ideas and information on healthy eating, check out this article Healthy Eating: Best Sources Of Fiber.
This entry was posted on Sunday, September 2nd, 2007 at 8:28 am and is filed under Health, Nutrition, Cooking, Healthy Eating. You can follow any responses to this entry through the RSS 2.0 feed. You can leave a response, or trackback from your own site.