by Julie Fletcher
Ok, so you're tired of eating the same old same old. What do you do? Pack the kids up and head out to McDonald's.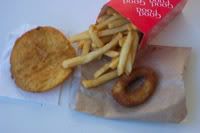 Uh. No.
While Mickey D's is a fun treat now and then, the artery clogging goodness really isn't the kind of treat we want to give our kids that often. Ok, so they have been changing up some of their menu items to offer a healthier chunk of options, but still, the sodium content alone should be enough to turn anyone off of fast food. I'm not the Queen of the Healthy Kitchen and I do take my kids out for fast food occasionally, so I'm not down on you if you do go out.
You can make that stuff at home, though. A burger like the most popular fast food burger out there (you know the one I mean) is so easy it's ridiculous. In fact, I'm going to tell you the secret to making your own that tastes very close to the original.
The next time you get a 'Mac Attack', head for your kitchen. Gather up these ingredients:
Ground beef (frozen patties are fine)
Onion flakes
Ketchup
Mustard
Thousand Island Dressing
Relish
Pickles(optional)
Buns
Ok, you have all that? The first thing you're going to do is to soak those onion flakes in some cold water, not hot. Just dump a few tablespoons into a bowl with enough cold water to cover them. Once they've soaked up enough water to be soft, dump the water and squeeze out the extra from the flakes. Place in the fridge until you're ready to add them to the burger.
Shape your hamburger into patties. Make them however you normally do, as many as you'd like. This is a very adaptable recipe! Cook them thoroughly. To make them closer to the original, flatten as much as you can with a strong spatula.
While you're cooking them, toast your buns a little and mix about one tablespoon of relish into three tablespoons of the dressing. Put both aside.
Ok, now that the hamburgers are done, you will want to assemble them. Place a patty on the bun, add in a small squirt of ketchup, then mustard. About a teaspoon of the dressing mixture, then a pickle or three, then top the burger off with a teaspoon of the cold onions. Pop the top of the bun on and you're done! Add some shredded lettuce and a little tomato if you'd like.
For the hungrier types, cut a circle from a slice of toast and put on top of the first patty, then assemble per directions.
Fries with that? Cut your potatoes as thin as you can, soak in a bowl of sugar water for ten to fifteeen minutes. Drain, sqeeze as much water as possible from them, then fry until golden brown. This won't take long for such thin fries so watch them carefully after about five to seven minutes! The soaking in the sugar water will give them a taste similar to those from those fast food joints!
This entry was posted on Thursday, September 20th, 2007 at 11:16 am and is filed under Uncategorized. You can follow any responses to this entry through the RSS 2.0 feed. You can leave a response, or trackback from your own site.