by Stacey Graham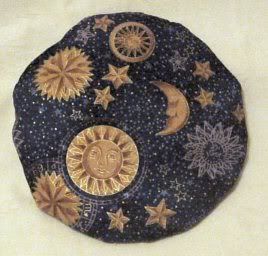 Ok, now that I have Annie Lennox firmly stuck in my head, I thought I'd share a great craft to do with the kids.  Dream pillows are an easy, economical and dare I say it, sneaky, way to help your wee ones slip into sleep.  A great craft to do for sleepovers and Girl Scout meetings, the materials are easy to find and the results smell better than glue-infused popsicle sticks.
Fabric: 
Cotton
Flannel
Herbs:
Lavender buds
Chamomile
Equipment needed:
Funnel
Needle and thread
Fabric
Herbs
Their head…
Cut two circles six inches in diameter.  Place the material inside out and sew around the perimeter, leaving a small hole larger enough for your funnel.  Mix the herbs together in a small bowl or plastic baggie (much less mess and you can save the rest for other projects such as potpourri), then using the funnel, scoop the herbs into the pillow until it is mostly full.  Do not overfill, as you'll have a great lump lodged in your ear the next morning otherwise.  Sew up the wee hole and put in your pillowcase for sweet dreams.
This entry was posted on Tuesday, January 22nd, 2008 at 1:55 pm and is filed under Uncategorized. You can follow any responses to this entry through the RSS 2.0 feed. You can leave a response, or trackback from your own site.