by Stacey Graham
I'm a crafty mama. I admit it though my craft closet is overflowing with odds and ends of unfinished projects. Nubs of wax for candles, stickers and sparkly glue - as the mother of five girls I'm lucky I don't have sparkly glue running through my veins by now.
Here's a quick and fun craft that is easy for kids as well as being eco-friendly by recycling your scrap paper. Have fun!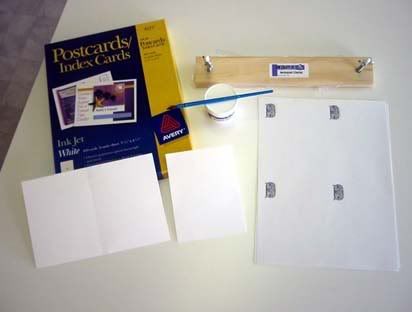 1. Open your graphics program (Printmaster, Publisher, etc) and open up the postcard setting (or if in Word, divide your page into four equal sections).
2. Place your graphic within that square where you wish (i.e. at the top in the middle, bottom, watermark, etc).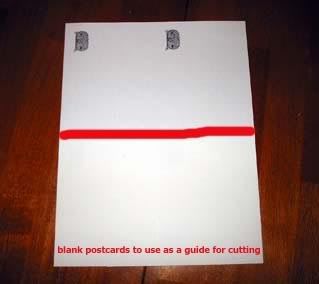 3. Using a paper cutter or in my case scissors, cut the paper equally into fourths. Now, what I do is use blank postcards from Avery, I use them as a guide for cutting, separating them at the perforations and cutting along the edges I need. After I'm finished cutting, I use that postcard as the back of the notepad. As I'm going to make this a large business card notepad, I'll print off my BC graphics with the contact information onto the postcard (using the same postcard settings on my graphics program) and place it on top. I'll take another postcard and print off an order form to use as the back of the notepad.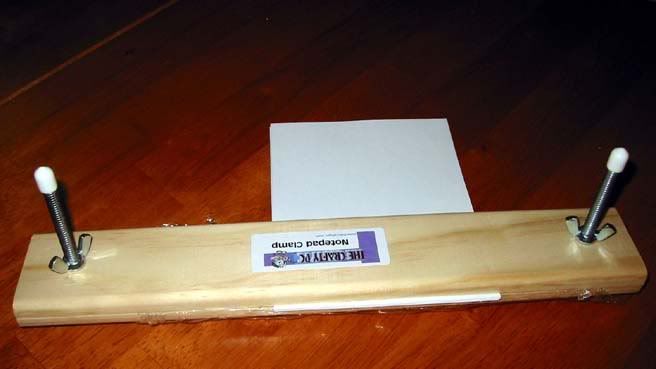 4. I use 10 sheets of paper to make a 40 sheet notepad. After cutting, take the 40 sheets (10 sheets cut into quarters) and place them between my postcard blanks. Then, using padding compound from the Crafty PC and their vise (easy to make your own vise and other glue, see below) I make the notepad. Take the sheets, even them up by tapping the top of the pad on the counter. Place the sheets between the visegrips so only the tops poke out. Apply the padding compound to the ends of the paper sheets. Allow to dry and reapply. You can certainly make more than one this way, just stack them on top of each other and peel apart when completely dry.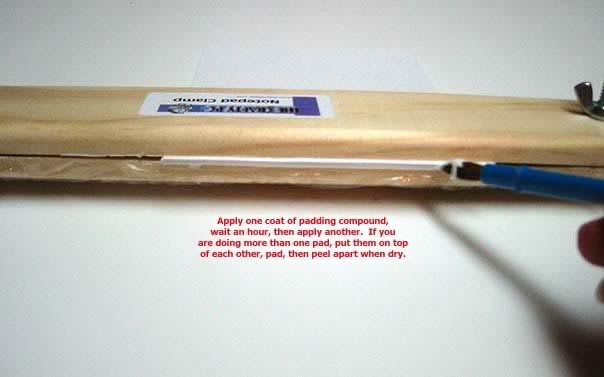 Alternatives to padding compound:
- Aleene's Tacky Glue
- Hot glue (don't recommend, very messy)
- Elmer's
Alternatives to vise:
- phone books
- pencils with rubber bands around the end (hey, when you're in a pinch…)
- bull clips
*I wrap my vise with plastic wrap so the glue doesn't stick to vise and ergo to the other side of it, makes for easier clean-up too!
This can easily be adapted to any size paper and backed with chipboard for a more sturdy writing surface.
This entry was posted on Thursday, January 24th, 2008 at 3:14 pm and is filed under Uncategorized. You can follow any responses to this entry through the RSS 2.0 feed. You can leave a response, or trackback from your own site.