Archive for the 'Home Budget' Category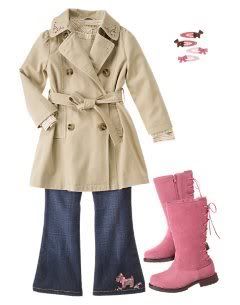 You've found what looks like a great deal for kids' clothes…2x your bid in clothing. Who wouldn't want to get their hands on $100 worth of clothing for $50? And hey, look, it's Gymboree! That stuff costs an arm and a leg, this is a killer deal! Woo, yay, hoohaa!
Hold on there, Nelly. Did you read the whole ad? That's two times your bid in RETAIL price. If that still sounds good, then go and check out www.gymboree.com. Look for the proper size and style you want for your little prince or princess, then calculate the prices. If you bid on one of these popular 2x your bid auctions, you will not be getting a huge amount of clothing unless your bid is very high.
If you can afford to place a really high bid, then you're in luck. But for those on a tight budget, I suggest looking for other auctions. It would be very disappointing to place a low bid and only receive one item. There are plenty of auctions for Gymboree clothing, plus other quality names like GAP, Baby GAP, Disney, Healthtex, and The Children's Place.
Keep a shrewd eye on the shipping and handling. While I am willing to pay more for a large lot since it takes the seller time to package the items, even if they are reusing an old box, drive it to the post office, and pay postage. I think about the washing and folding, then packing when I look at their shipping and handling rate. For many clothing items in one lot, I don't mind paying $15 to $20 for the s+h. More than that? I skip it unless it's a really, really nice lot.
One more tip…try some misspellings of what you're looking for. Also, don't go directly to the proper section. Try typing in your search in the All Categories choice. You may find things in odd areas! I once found a lovely lot of clothing for a low, low price because it had accidentally been placed with socks. Go figure!
Posted in Finance, Home Budget, Smart Buying | 2 Comments »
It's remarkable when you feel more down on your luck than ever before and there is a simple stranger who, with a small thoughtful gesture, can make you realize that things are pretty great.
We (my family) have been through what is usually referred to as the ringer these last few years. Typical young-married-couple-with-two-kids stuff — money, job changes, money, job losses, trying to prove to our families that we aren't crazy for sticking to our passions, money, our daughter having half of her lung taken out. Alright, mostly typical stuff — we have had some things that I'm not quite sure we will ever emotionally recover from (my husband and I can't really talk about our daughter, two weeks old at the time, almost dying in his arms simply because it was so stressful that I am certain we have blocked most of it out).  But back to my point: by all accounts of the stress of the last two years, we could be really angry and mean people.  I think anyone that has struggled can relate — you tend to start to lose the better qualities of yourself when things get lower than you ever thought possible.  And today I was reminded why we came out of it happy and with an even more stellar outlook on everything.
I'm going to sound like the cheesiest feel-good motivational speaker in the world but, here goes. This man, a mechanic, who could have taken all my money and been an opportunist about the fact that I had to have some work done on my car to pass my emissions test to renew my registration. Instead, I explained to him the situation and made a note that we really didn't have the billions of dollars to fix the part and so, he looked at the car and pushed a simple button and said "there ya go — you should pass your test now". There is something that needs to be fixed but it would have cost me lots and lots of money that knew I didn't have.  He could have just told me to go away but, no, he bought me some time. He saved me from a week's worth of being pulled over by every bored cop who notices that I have expired tags. A simple thing that made my life easier and gave me a chance to get things taken care of. He referred me to a local mechanic who is cheap and respectable and made me promise to go see him soon. As I drove away I realized (here comes the cheese) that this exact type of thing was why my husband and I aren't angry and miserable people. Because we have been cared about, on a very human level, by others who have been, or still are, there. We'll always look back on those years with great wonder at how we survived — and then we will have to remind ourselves that we survived because of the strangers who wouldn't let us fall.
Posted in Daily Living, Mental Health, Cars, Home Budget | No Comments »