Archive for the 'Nutrition for Adults' Category
Hey all you vegans out there and those of you who want to try out a great veggie burger with some south of the border taste…Vegetarian Times published this recipe for Hot Tamale Burgers in July and I thought I would share it with you. Even if you're not a vegan or vegetarian you'll love the recipes put out by Vegetarian Times. Pick up an issue if you haven't!
1 Cup short grain brown rice
1 1/2 tablespoon olive oil
1 medium onion (finely chopped)
1 small red bell pepper (chopped)
3/4 cup fresh corn kernels (1 med ear)
1 chipotle chili in adobo sauce, minced, plus 2 teaspoons sauce.
2 cloves garlic, minced
1 teaspoon ground cumin
1 teaspoon salt
1/3 cup instant masa harina or yellow cornmeal
1/2 cup chopped cilantro
1 1/2 tablespoon fresh lime juice
3/4 teaspoon lime zest
1- Bring the rice and 3 cups of water to boil in a medium sauce pan. Reduce heat to low, over and simmer 40 min or until the water is absorbed and the rice is tender.
2- meanwhile, heat oil in a large skillet over medium heat. Add onion, bell pepper, corn, chipotle, adobo sauce, garlic, and cumin with the salt. Sauté 2 minutes, then reduce to low heat. Cover and cook 15 minutes or until the veggies are tender. Whisk 1/2 cup water with the masa harina in a bowl. Add to the skillet mixture, cover, and cook on low 10 minutes more. (mix will feel like thick cornmeal mush)
3-Remove from heat and stir in hot rice, cilantro, lime juice and zest. Cool for 20 minutes. Wet hands and shape the mix into 8 large patties. You can make smaller ones, too. Pop'em in the fridge for 30 minutes.
4- Prepare the charcoal or gas grill for medium heat. Brush the burgers with olive oil, along with the rack. Grill 7 minutes per side or until crusty on the outside. (Less time for smaller burgers)
Yummy, yummy! Top these guys with some smoky cheddar or Monterey jack, be sure to put the cheese on a few minutes before removing from the grill. Toast your buns for extra flavor.
Special thanks to Stacey for giving me the inspiration for this post!
Posted in Cooking, Healthy Eating, Nutrition for Adults | 4 Comments »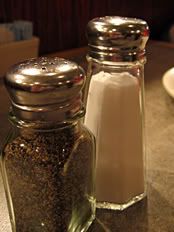 Do you need to change your diet to include more healthy foods? There are still pleanty of foods you can enjoy, especially if you use substitutions. Sometimes it may be hard to figure out what you can use in place of another ingredient. To help you with this change, I offer a list of healthy substitutions for commonly called for ingredients.
1 Baking Chocolate Square- 3 tablespoons carob powder from the health food store and 2 tablespoons of water.
Butter or Margerine- Vegetable oil, sesame oil, or tahini butter in the same amount called for of butter or margerine.
1 cup of Buttermilk or Sour cream- 1 cup of low fat yogurt, 1 cup of milk plus 1 tablespoon lemon juice
Cornstarch- Arrowroot, agar agar
Cottage Cheese- An equl amount of tofu
Ground Beef- Use the same quantity or weight in ground nuts, soy beans, tofu crumbled, or textured vegetable protein.
1 egg- 1 tablespoon arrowroot or 1 tablespoon cornstarch. This works well in baking.
Milk- Soy milk or nut milks. Almond milk is especially nutritious and tasty.
Peanut butter- Use other nut butters such as hazelnut, walnut, almond, or cashew butters.
To replace salt you can use salt substitute or make your own mix of dried herbs. There are many different recipes for dried herb mixes that you can place in your own shaker and use to season your food. If you have spices and herbs that you favor above others, try experimenting until you have your own secret mix to season all of your favorite recipes.
Posted in Cooking, Healthy Eating, Healthy Living, Nutrition for Adults | 4 Comments »
The race to get fat is on!
And, according to research released by Johns Hopkins Bloomberg School of Public Health, most Americans are going to place in this race with a big fat blue ribbon.
The research points out that if Americans keep gaining weight at the current rate they're gaining; in just eight years 75% of Americans will be overweight and 40% will be obese.
Raise you hand if you'd like to come in last in this race.
Our kids are affected as well. It's not fair to train them for a contest that will kill them.
Sorry if I sound agitated, I do tend to be chipper and positive — look on the bright side.
But when my son and I go to the city park I count far more chubby kids than slim kids. More parents sitting on the bench then playing Frisbee or swinging with their children. It's sad. Many of the people my age aren't going to live to see their grandkids. Fat will do them in early — if they even have grandkids. Studies show that overweight individuals have a much harder time conceiving.
Right off the top of my head I can think of two revolutionary ways to stop this…
Eat better and exercise.
Cutting out soda and fruity sugary drinks will help too. As will trimming down food portion sizes and actually hanging out with our kids; setting a good example by playing with them, outside in the fresh air.
Other key points found by Johns Hopkins:
Currently 1 in 3 adults is obese.
80% of African American women over the age of 40 are overweight.
Asians born here in America are four times more likely to be overweight than their foreign born cousins.
16-34% of children (11 million) are overweight and many more are at risk of becoming overweight.
Women ages 20-34 years have the highest rate of increased weight gain.
But no one is entirely off the hook. The overall fact remains that 75% of ALL Americans will likely be overweight by 2015. Imagine what this will do to the already escalating health care costs.
This is serious. I hear peppy talks by fitness trainers. I see nicely worded articles about slimming down youth. I feel all warm and fuzzy when I learn that yet another overweight pregnant woman thankfully gave birth to a healthy baby.
But honestly, I think we've reached the point where happy pep talks and saying "robust" when we mean "grossly overweight" has got to stop. It's not working. Maybe knowing that we're willfully harming our children will work. Maybe considering that there soon won't be enough healthy people to care for the unhealthy people will work. Is death a motivator to get in shape?
Maybe…
If you'd like to see your children grow up healthy and happy you can visit:
The Alliance for a Healthier Generation
National Institute of Environmental Health Sciences kids page
Why not make a choice right now that you and your children will lose this race. All you have to do to get started is click on a link above. It's that simple.

Posted in Child Abuse, Exercise, Healthy Eating, Healthy Living, Nutrition for Adults, Weight Management | 3 Comments »
So, after thirteen years as a devout vegetarian, I have decided to incorporate fish into my diet.  The steps of this vegetarian journey have been interesting for me to be a part of:  the young, idealistic, revolutionary-minded fifteen year old that started it all, the turn to becoming an introspective college kid who was more interested in saving herself than the world, the woman with kids who wanted to make sure her children weren't suckered into our horrifically un-nutritious culture and, now, an almost-thirty year old wanting to insure my own longevity and health for many, many years to come. 
I don't disagree that a person can live an ultimately healthy and long life as a pure vegetarian.  I've seen it in many over-fifty friends of mine.  Something changed in me, though, about two years ago.  I am not certain what it was, but, somewhere along the lines I started having an insatiable urge to eat fish.  It struck me as odd because I have never eaten fish in my life - with the occassional popcorn shrimp or fishstick my mom would fry up when I was a child.  I wasn't craving something that I missed - I was craving something that I have never had before.  I started to think that maybe my body was trying to tell me something - maybe my body wasn't so interested in the taste of fish as much as it was interested in what the fish could offer in nutrients.
Here's what I have found:
Fish are nutritious and good to eat. When properly prepared, fish provide numerous health benefits, especially for the heart. The American Heart Association recommends eating two to three fish meals each week. The benefits of eating fish include:

*Fish offer high-quality protein with fewer calories than a similar-sized portion of meat. For example, both catfish and ground beef are about 18% protein. But, for an 8-ounce meal, the catfish will have only about 232 calories, while the regular ground beef will have about 640 calories.
*Fish are low in sodium and are good sources of potassium, vitamins, and other minerals.
*Fish are generally low in cholesterol and saturated fats, which have been associated with high blood pressure and heart disease.
*While the benefits of fish on nutrition are still being studied, much of the current research is focused on various kinds of beneficial fats in fish, particularly a kind called omega-3 fatty acids which are in some fish and fish oils. Some studies have indicated that these fatty acids have favorable effects on health conditions such as hardening of the arteries, high levels of cholesterol and high blood pressure.
Granted, you can get all of these nutrients elsewhere if you work really hard to incorporate them into your diet.  I used to use a lot of flax seed in my cooking but, since having children I don't cook as many things from scratch as I used to.  I dunno.  Also, I guess I am just tired of feeling guilt - which I hate to admit is a large part of my deal.  I can't stand the thought of anything dying because of me.  I want to find balance in my life that can reconcile the fact that,indeed, I may want/need some other proteins and nutrients that I am not getting due to my lack of diligence with my diet with my need for a clear conscious.  I want to find some maturity to my ideals and find that balance.  I want to explore the next step of my progression as a human being. 
Posted in Healthy Eating, Healthy Living, Nutrition for Adults | No Comments »
Catherine Cowie, director of the diabetes epidemiology program at the U.S. National Institute of Diabetes and Digestive and Kidney Diseases, released new research that suggests one-third of U.S. adults are either diabetic or pre-diabetic.
The researchers note that about 95 percent of all cases of diabetes in the United States fall under the category of type 2 disease — a gradual loss of insulin production and sensitivity that's usually linked to overweight and obesity…

…There is a huge portion of the population who don't know they have diabetes or who are at risk for diabetes, Cowie said.

"We aren't doing a good enough job of diagnosing these one-in-three people who don't know they have diabetes as well as people who have pre-diabetes," Cowie said. "We really need to be a better job of convincing people that should be adopting healthy behaviors that will prevent these conditions."

One expert thinks that the number of undiagnosed diabetics and pre-diabetics may be underestimated.

Read full story: One-Third of U.S. Adults Diabetic or Pre-Diabetic
Posted in Lifestyles, Health, Nutrition for Adults, Weight Management | No Comments »
WeightWatchers uses a tool called POINTS Tracker that helps you keep track of the food you're eating each day. The idea is that you have a point range that you need to within in order to see weight loss results. Although their POINTS Tracker tool has a ton of foods in their database, they don't have all of them. That's where their POINTS Calculator comes in. If you can't find the food in their database, they have a tool that will calculate points for a particular food based on calories, fat and fiber. But what happens when you can't find the food in their database and you don't have the nutrition facts for it? That's where NutritionData's Nutrition Facts Calorie Counter comes in.
Their website has Nutrition Facts for most fast food restaurants and for other food like produce, meats and poultry. The thing I like about NutritionData's website is that they go beyond the typical Nutrition Facts. They also display the moisture content, Caloric Ratio Pyramid, Nutrient Balance Indicator and Nutritional Target Map. However, most of the time, it's just a good place to get the calories, fat and fiber numbers to plug into the the WeightWatchers' POINTS Calculator.
Posted in Health, Healthy Eating, Nutrition for Adults, Weight Management | 1 Comment »
CNN reports:
Regardless of how they shed pounds in the first place, big losers stayed that way by limiting fat rather than carbohydrates, according to new research that could add fuel to the backlash against low-carb diets.
Posted in Healthy Eating, Nutrition for Adults | No Comments »
Have you ever wanted to quickly know the Nutrition Facts for different foods? Well, now you can, thanks to a website called Weight Loss Help. The website has a simple to use search engine that allows you to find just about any kind of food.
Check it out at http://www.thecolumn.org/nutrition-facts.asp.
Posted in Healthy Eating, Nutrition for Adults | No Comments »