Archive for the 'Cooking' Category

I adore things made with sweet potatoes and with pumpkin. This recipe was shared again by Gayla Peterson, it is from a community cookbook put together by her friends and neighbors.
If you're like me and love pumpkin, substitute pumpkin for the sweet potato. It's not just a recipe for Thanksgiving or Christmas, pumpkin and sweet potatoes make great accompaniments to nearly any cool weather dinner. Special thanks to June Moriarty who contributed this recipe to the community cookbook. If you would like a copy, send an email to familyresourceblogger (at) gmail.com
Remember, every Friday a new recipe (or a few) will be posted, so be sure to check in!
Sweet Potato Soufflé
3 cups cooked and mashed sweet potatoes
1 cup sugar
2 eggs
1 tablespoon vanilla
½ cup butter, melted
Mix above ingredients and put in casserole dish.
1 cup brown sugar
1/3 cup flour
1 cup chopped pecans
1/3 cup melted butter
Mix above ingredients and pour over sweet potato mixture and fold until the mixture looks mealy.
Bake uncovered at 350o until done.
From the Kitchen of June Moriarty
Posted in Cooking | 1 Comment »
My friend Stacey sent me these recipes that her friend Gayla Peterson shared with her. Gayla, thank you for such yummy sounding treats! I can't wait to try them and just had to share with the Family Resource Readers!
Ok guys, ejoy this! And if you want to get in on having a recipe posted that will show up in Google search and have your name on it, send the recipes to familyresourceblogger@gmail.com
I'll pick one and post it each Friday, maybe sooner if it's tasty enough!
Saucepan Brownies
1 cup butter
5 Tablespoons cocoa
2 cups sugar
4 eggs
2 teaspoons vanilla
1 1/2 cups self-rising flour
Melt butter and cocoa together in a heavy saucepan over low heat. Remove from heat and add sugar. Add eggs and vanilla. Sift flour and add last. Pour into greased 11 X 13 pan and bake 25-30 minutes at 350 degrees.
Pumpkin Sheet Cake
1 (15 ounce) can canned pumpkin puree
2 cups white sugar
1 cup vegetable oil
4 eggs
2 cups all-purpose flour
2 teaspoons baking soda
1 teaspoon ground cinnamon
1/2 teaspoon salt
DIRECTIONS
In a mixing bowl, beat pumpkin, 2 cups white sugar, and oil. Add eggs, and mix well.
In another bowl, combine flour, baking soda, cinnamon and salt. Add these dry ingredients to the pumpkin mixture, and beat until well blended. Pour batter into a greased 15 x 10 inch baking pan.
Bake at 350 degrees F (175 degrees C) for 25 to 30 minutes, or until cake tests done. Cool.
Also works well as cupcakes or a bundt cake. Cover with the numminess of the following frosting recipe!
ICING:
1 (3 ounce) package cream cheese
5 tablespoons butter, softened
1 teaspoon vanilla extract
1 3/4 cups confectioners' sugar
3 teaspoons milk
1 cup chopped walnuts
In a mixing bowl, beat the cream cheese, butter or margarine, and vanilla until smooth. Gradually add 1 3/4 cups confectioners' sugar, and mix well. Add milk until frosting reaches desired spreading consistency. Frost cake, and sprinkle with nuts.
Posted in Cooking | No Comments »
Do you have a favorite food that brings back comforting memories of childhood or another special time? If so, you're just like millions, if not a few billion others.
Comfort food is usually a home cooked, simple, and inexpensive dish or meal. Macaroni and cheese is a typical comfort dish that spans the U.S., while there are regional favorites. I'm originally from the South Eastern U.S. and like many others from that area, barbeque, chicken dumplings, friend chicken, and mashed potatoes remind me of home and sweeter times.
I think my favorite comfort food is a breakfast scramble, though. Breakfast was a relaxing thing for me as a child, a time to slow down before running out of the house for school. My grandmother always made sure the morning meal was perfect for the day to come. Every breakfast seemed tailored, just right for whatever came my way. In the fall and winter months when the weekends came or holiday vacations finally rolled around, grandma made another southern favorite: Fried Taters and Onions.
Ok, so that might sound more like a side dish for dinner, but hear me out. It's one of the easiest one dish breakfasts around and can have just about any of your normal breakfast ingredients included. Some people use a frying pan, while others use a deep pot. I am one who prefers a deeper pot with sturdy handles due to everything I throw into mine!
I don't have a set recipe, so I'm going to be general with the amounts of everything. It's more a matter of taste than an exact science.
First, scrub your potatoes. Use whatever kind you like the best, though a dry baking potato will give the best texture. I usually use six or seven large, sliced into rounds or cut into tiny cubes like home fries. Chop one medium onion. Drop it all into a hot pan that you have melted butter in, or coated with olive oil. Cover and check occasionally, stirring until done. The potatoes will be brown in some places, crisp with soft insides.
Ok, now your 'Taters and Onions' are done, but if you want a great scramble, add in beaten eggs, cooked bacon or sausage, just about any meat or vegetable you enjoy. Cheese makes a great topper after the eggs are cooked firm.
Mm. I think I am going to go have a Scramble now.
Posted in Lifestyles, Cooking | No Comments »
Hey all you vegans out there and those of you who want to try out a great veggie burger with some south of the border taste…Vegetarian Times published this recipe for Hot Tamale Burgers in July and I thought I would share it with you. Even if you're not a vegan or vegetarian you'll love the recipes put out by Vegetarian Times. Pick up an issue if you haven't!
1 Cup short grain brown rice
1 1/2 tablespoon olive oil
1 medium onion (finely chopped)
1 small red bell pepper (chopped)
3/4 cup fresh corn kernels (1 med ear)
1 chipotle chili in adobo sauce, minced, plus 2 teaspoons sauce.
2 cloves garlic, minced
1 teaspoon ground cumin
1 teaspoon salt
1/3 cup instant masa harina or yellow cornmeal
1/2 cup chopped cilantro
1 1/2 tablespoon fresh lime juice
3/4 teaspoon lime zest
1- Bring the rice and 3 cups of water to boil in a medium sauce pan. Reduce heat to low, over and simmer 40 min or until the water is absorbed and the rice is tender.
2- meanwhile, heat oil in a large skillet over medium heat. Add onion, bell pepper, corn, chipotle, adobo sauce, garlic, and cumin with the salt. Sauté 2 minutes, then reduce to low heat. Cover and cook 15 minutes or until the veggies are tender. Whisk 1/2 cup water with the masa harina in a bowl. Add to the skillet mixture, cover, and cook on low 10 minutes more. (mix will feel like thick cornmeal mush)
3-Remove from heat and stir in hot rice, cilantro, lime juice and zest. Cool for 20 minutes. Wet hands and shape the mix into 8 large patties. You can make smaller ones, too. Pop'em in the fridge for 30 minutes.
4- Prepare the charcoal or gas grill for medium heat. Brush the burgers with olive oil, along with the rack. Grill 7 minutes per side or until crusty on the outside. (Less time for smaller burgers)
Yummy, yummy! Top these guys with some smoky cheddar or Monterey jack, be sure to put the cheese on a few minutes before removing from the grill. Toast your buns for extra flavor.
Special thanks to Stacey for giving me the inspiration for this post!
Posted in Cooking, Healthy Eating, Nutrition for Adults | 4 Comments »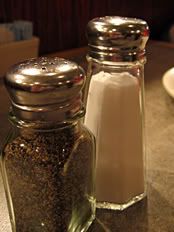 Do you need to change your diet to include more healthy foods? There are still pleanty of foods you can enjoy, especially if you use substitutions. Sometimes it may be hard to figure out what you can use in place of another ingredient. To help you with this change, I offer a list of healthy substitutions for commonly called for ingredients.
1 Baking Chocolate Square- 3 tablespoons carob powder from the health food store and 2 tablespoons of water.
Butter or Margerine- Vegetable oil, sesame oil, or tahini butter in the same amount called for of butter or margerine.
1 cup of Buttermilk or Sour cream- 1 cup of low fat yogurt, 1 cup of milk plus 1 tablespoon lemon juice
Cornstarch- Arrowroot, agar agar
Cottage Cheese- An equl amount of tofu
Ground Beef- Use the same quantity or weight in ground nuts, soy beans, tofu crumbled, or textured vegetable protein.
1 egg- 1 tablespoon arrowroot or 1 tablespoon cornstarch. This works well in baking.
Milk- Soy milk or nut milks. Almond milk is especially nutritious and tasty.
Peanut butter- Use other nut butters such as hazelnut, walnut, almond, or cashew butters.
To replace salt you can use salt substitute or make your own mix of dried herbs. There are many different recipes for dried herb mixes that you can place in your own shaker and use to season your food. If you have spices and herbs that you favor above others, try experimenting until you have your own secret mix to season all of your favorite recipes.
Posted in Cooking, Healthy Eating, Healthy Living, Nutrition for Adults | 4 Comments »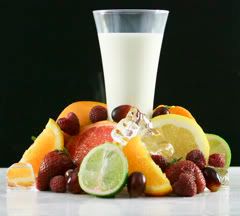 A well balanced diet is the best way to get kids full of the proper vitamins for their growth. Fish, fresh fruit and veggies, plus whole grains will help your children stay healthy. All of those foods have the right balance of nutrition when combined with other healthy choices.
But what if your child, or you, hate some or most of those foods? In that case, it is very easy to become deficient in nutrients the body needs to stay strong enough to prevent sickness and even bone breakage. Luckily there are many foods you and your kids can eat that will sneak in the vitamins and nutrients the body needs. Foods that are stuffed with the ever important calcium, vitamin A, and essential omega fatty acids.
Many people love to snack on salty or sweet crunchy foods. Pumpkin seeds can help fulfill this desire and be flavored so many different ways. With a toss of olive oil and seasoned to taste, it's so easy to make a crunchy snack! The combinations are infinite. I use a full pumpkin's worth of seeds that have been picked clean from the gourd, washed, then laid flat to dry. You can speed this process by using a paper towel. Then toss the seeds on a large bowl with about a tablespoon of olive oil if you have it, vegetable oil if you don't. Once covered well with the oil, sprinkle in some good sea salt, then choose your seasoning. My kids like them sweet so I try to add a little sugar for a 'kettle cooked' taste. Some adults love the Cajun flavors, so just sprinkle on about a teaspoon of Cajun seasoning to start.
These are only my ratios. You can use as much or as little as you'd like to satisfy your own taste. Experiment with other spices and herbs to make your own unique pumpkin seeds recipe.
I have been known to hide veggies into dishes you wouldn't normally find them. A few days ago I made a stir fry with very thinly sliced steak, a whole head of cabbage, a bag of spinach, onions, carrots, and a huge sweet red pepper. Oh, and mushrooms. I used an electric wok and cooked the very thinly cut steak first. After that, I just dumped in the other ingredients, turned the wok to low and let it go until everything was soft. A small dash of sugar and a few shots of soy sauce made this dish taste slightly Asian, but not too strongly. Because of the way the veggies were sliced the kids assumed they were noodles. Go figure!
If you have a juicer, you're ahead of the game. You can add a little vegetable juice into fruit juice, or to put into a soup stock instead of chicken broth. Try it in breads instead of water for a vitamin boost to your grains. Simmer rice in a water and veggie juice mix to help replace the vitamins that were lost when white rice was milled.
If you're creative, you can find so many ways to sneak healthy foods into your children or yourself. Maybe even into a reluctant spouse. For more ideas and information on healthy eating, check out this article Healthy Eating: Best Sources Of Fiber.
Posted in Health, Nutrition, Cooking, Healthy Eating | 1 Comment »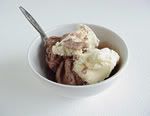 I promised some yummy desserts to pop into those lunchboxes! I found one recipe and I've 'designed' the other. Before I get to them, I want to talk about creativity and your child's lunch. If you want your child to eat the lunch you've so carefully prepared you should be creative in the presentation. Don't worry, it's nothing like the gourmet plating you see on cooking programs.
Kids love interesting foods, the texture, taste, and look all factor in. Knowing they have a delicious dessert to follow the interesting wrap or sandwich you packed will only make the whole meal more fun and interesting for them. Don't go overboard, though. Frilly ribbons to tie baggies shut might turn off your son. And his friends. Bright fruits, dips, and interesting containers will do the trick.
For really young kids, instead of a written note, try just drawing a happy one. A smiley face, a heart, a flower, or your best drawing of their favorite cartoon character can brighten up their day. A simple 'I love you' is the very best note to slip in. Try writing it on their juice box, the inside of their lunchbox lid, or in another unexpected place they'll be sure to see.
Now, on to dessert…
Want healthy and sweet? Try out a Banana Dog! Just pop a hot dog bun into a baggie that has been spread with peanut butter on one side and jam on the other and a small baggie of raisins, cocunut, or peanuts inside. When your child gets to the cafeteria all she has to do is peel the banana and place into the bun, then sprinkle with the extras. Neat, huh?
If you want seriously sweet…rather your child does, try candy bar brownies. This is so easy! Just whip up a bowl of pre-packaged brownie mix, line a muffin tin with cupcake liners, pour the cups 1/3 full. Place half of a snack sized candy bar in the middle, then cover with more brownie mix. Bake according to directions. You can use any snack size candy bar.
These are just two idea. How many can you come up with? Share!
Posted in Uncategorized, Cooking, Healthy Eating | No Comments »
I've decided to pack lunches for my daughter this year. I know tons of parents have made their child's lunch for years upon end and I figure it's my turn to join the ranks. School lunches, while supposedly balanced and nutritious, look about as appetizing to me as those cellophane wrapped sandwiches sitting on the counter at the local gas station.
Yeah. Mm, mm good.
My husband and I are pretty health conscious and luckily, our children love their veggies. If you're wondering how we got so lucky, it's a matter of introducing the kids to vegetables as if they were treats when they're still very small. Black olives are great fun to pop on the end of tiny fingers and nearly every child loves to pop sticks of carrots or celery into any type of dip. It's like a requirement of being a kid to dip everything that's remotely dippable.
So, in search of the perfect lunch, I married some ideas. Kids like to have something they can just pick up easily. Wraps are a great way to go if your child is like that. But, you can run out of tortillas at the wrong time. Then you're stuck with a soggy old sandwich. Or are you? Nope! Just trim the crust off of a piece of bread and roll flat. Voila! Instant wrap. You may have to use a toothpick to hold it shut, but this does work really well. For smaller kids, don't worry about the toothpick, just add smaller amounts of filling.
Sometimes it seems like a nice idea to make a hot sandwich or wrap, but don't fall to that temptation. By the time lunch rolls around, the melted cheese on a hot sandwich or wrap will be gummy, the bread soggy, and the mayo…I don't even want to go there. Try cold versions of hot foods. Chop chicken, season with taco seasoning, mix with a bit of sour cream and salsa, spread on top of a lettuce leaf that lines a tortilla, sprinkle with cheese, then roll tightly. A cold chicken fajita!
You don't have to stick to normal sandwich fillings or breads. You can also use bagels, pita bread, crackers or rolls. Ever try strawberry preserves with cream cheese? Uh huh, kids love that, too. Leftover stew? Wrap it! Just drain the excess liquid, squish the vegetables and meat together a bit, then wrap. Let your imagination run wild.
Next time, we'll talk about easy desserts for packed lunches!
Posted in Parenting, Nutrition, Cooking, Daily Living, Healthy Eating | 1 Comment »
When my little girl began pre-school, I found out first hand how germs travel from child to child. Then they invade your home. I had no idea what to do to prevent this spread of germs once she was away from home and mixing with other children. Face it, most pre-school kids aren't very fastidious about their cleanliness while playing. I know some older kids who aren't either!
About a month after my daughter had been in school, I read an article on how rosemary can help prevent colds. Just plain old rosemary for cooking. Some people drank tea of the herb, but I preferred adding it to food my girl already ate. Rosemary tea just isn't very appetizing, though it makes a wonderful addition to a bath for someone suffering from a cold or the flu.
I just sprinkled a pinch or two of rosemary into her eggs, along with different cheeses before heading off to school. Adding in some chopped tomato is also tasty and healthy. Just don't tell the kids about the healthy part.
Another wonderful thing about rosemary is that it's easy to grow. You can find rosemary trees at your local grocery close to Christmas in the floral department, though some carry them all year. Follow the instructions on the care tags and you'll have a natural air cleaner that kills airborne germs. The scent of rosemary has been valued since before the Roman Empire!
Why not try some Rosemary Potatoes to get your taste buds clamoring for more?
Rosemary Roasted Potatoes
2 large sprigs rosemary (about 1/4 cup of stripped leaves)
2 pounds unpeeled potatoes cut into 1 1/2″ chunks
3 cloves garlic, smashed and halved
2 tablespoons olive oil
1 teaspoon of salt.
Toss the potatoes with the rosemary, olive oil, garlic, and salt, then put them in a single layer in a shallow baking dish and roast uncovered for 30-45 minutes at 400 degrees, until they are browned lightly on the outside and tender inside. Serve immediately. These potatoes are terrific with chicken, pork or even hamburgers.
Recipe credit-http://www.gardenguides.com/how-to/tipstechniques/herbs/rosemary.asp
Posted in Health, Cooking, Cold and Flu Remedies, Healthy Living, Herbs and Natural Remedies | 4 Comments »
This holiday is a busy one for us. But, in a good way.. Our usual hectic paced travels down to see family in Florida has been replaced with friends visiting from all over the country - and us having the best times of our lives.
One of my best friends will be in from Brooklyn later today - Saturday night we have a big Dirty Santa and an even bigger honky tonkin' evening to follow. For those of you who don't live in Nashville: Honky Tonkin' is what we like to call going out to honky tonk bars and dancing the night away. None of us like country, per se, but just for the record - there is nothing more fun that watching (and then joining) a room full of drunken cowboys dance around in their boots and spurs. Yes. They really wear spurs.
And, the time with the kids has been heavenly. We are actually getting to enjoy each other. Despite the fact that, currently, we all have the flu - we are still making the best of our time together. One of the best things about being married to a professor; the holiday time is plentiful! He has been off since December 10th and will be off until January 13th. heaven.. heaven.. heaven…..
I hope everyone else's holiday is starting off equally as merry.. To help ya kick things off - here's a gingerbread recipe.. Nothing gets you in the mood like being in a kitchen with two kids, a bottle of wine, your wonderful husband and a killer gingerbread recipe to be knee deep in.. Enjoy….
Posted in Cooking, Holidays | 2 Comments »