Archive for the 'Lifestyles' Category
Side dishes are a little easier than the main dish, because so many sides for Thanksgiving are vegetables. Green beans, corn, mashed potatoes, and cranberries are just examples. You can take each one of those veggies and give them a tasty twist to wow your guests.
Fresh green beans are so very yummy when deep fried. Just pop them into hot oil a handful at a time and fry for 3-4 minutes. Plate them all lying in the same direction and sprinkle a bit of your favorite seasoning on top.
Corn can be brightened with the addition of chopped green and red peppers. A touch of sweetness will compliment the hot. Add in a touch of vegan safe sugar. (check with the company, some sugars are refined with charcoal from bones)
For your mashed potatoes, use vegatable broth as the mixing medium. It will give a great taste, plus add in a softer texture.
Fresh cranberries are easy to cook with! All you need to make your own cranberry sauce is a bag of cranberries, a little water, and some sugar. Pour the cranberries into a saucepan with about a cup and a half of water. Cook until the cranberries are soft (low heat). Add in sugar to sweeten the sauce to your preference. Remove from heat and stir vigorously, crushing the berries. If the sauce is too thin, slowly add a little cornstarch roux to the mix and stir until thickened. Orange peel added to the water, then removed before mixing will add in a great taste.
Posted in Uncategorized, Cooking, Holidays | No Comments »
Hey, Halloween is tomorrow! What are YOU doing?
I'm getting the kids ready, looking for candy, and trying to decide if we're going to dress the dog up. I also found a ton of Halloween decorations for 50% off retail, so I went a little crazy. The ront of the house looks like some sort of graveyard/crypt.
The best way I've found for decorating is to start my decoration shopping when the sales hit, then to continue shopping until everything is gone. That way, next year there is a huge box of things to choose from, all still brand new and at a fraction of the original cost. We also found some grea fabric for a dollar a yard, gauzy white and some black net. We enclosed the porch with the black, with the entryway open and strips of the fabric hanging down. Lights can go around your door, roof, windows, or bushes. With the white fabric, my two girls want to be ghosts. Talk about a cheap way to get out of costume purchases!
For tomorrow, it's going to be a total grossfest around the kitchen. Moldy Breakfast Pizza will start it all off, lunch will be Monster Eyes, and supper will be a tasty concoction of Maggoty Mess. What kid wouldn't be happy as a ghoul could be?
All of these recipes are easy and tasty. If you have just a few items on hand, you can make all of them.
Moldy Breakfast Pizza
eggs
bacon
Or
Some breakfast sausage, crumbled.
Cheese for melting
Tomato, chopped
Parmesan cheese
Green food coloring
Toast
Use one egg for each slice of toast. Scramble with crumbled bacon or sausage and tomato. Place on warm, buttered toast, top with your child's favorite cheese. Allow the cheese to melt. Mix a drop of green food coloring with the parmesan, try to get a nice mold color. Sprinkle the 'mold' on top of the pizz, then serve.
Monster EyesMake deviled eggs according to your favorite recipe. Pop one half of a pimento stuffed olive into the middle of the deviled egg. Serve.
Maggoty MessMaggoty Mess can be made quite easily. You can follow your favorite recipe for beef stew, then right before serving, add in cooked Orzo pasta. The pasta looks just like maggots!
Posted in Cooking, Holidays | 1 Comment »

I adore things made with sweet potatoes and with pumpkin. This recipe was shared again by Gayla Peterson, it is from a community cookbook put together by her friends and neighbors.
If you're like me and love pumpkin, substitute pumpkin for the sweet potato. It's not just a recipe for Thanksgiving or Christmas, pumpkin and sweet potatoes make great accompaniments to nearly any cool weather dinner. Special thanks to June Moriarty who contributed this recipe to the community cookbook. If you would like a copy, send an email to familyresourceblogger (at) gmail.com
Remember, every Friday a new recipe (or a few) will be posted, so be sure to check in!
Sweet Potato Soufflé
3 cups cooked and mashed sweet potatoes
1 cup sugar
2 eggs
1 tablespoon vanilla
½ cup butter, melted
Mix above ingredients and put in casserole dish.
1 cup brown sugar
1/3 cup flour
1 cup chopped pecans
1/3 cup melted butter
Mix above ingredients and pour over sweet potato mixture and fold until the mixture looks mealy.
Bake uncovered at 350o until done.
From the Kitchen of June Moriarty
Posted in Cooking | 1 Comment »
My friend Stacey sent me these recipes that her friend Gayla Peterson shared with her. Gayla, thank you for such yummy sounding treats! I can't wait to try them and just had to share with the Family Resource Readers!
Ok guys, ejoy this! And if you want to get in on having a recipe posted that will show up in Google search and have your name on it, send the recipes to familyresourceblogger@gmail.com
I'll pick one and post it each Friday, maybe sooner if it's tasty enough!
Saucepan Brownies
1 cup butter
5 Tablespoons cocoa
2 cups sugar
4 eggs
2 teaspoons vanilla
1 1/2 cups self-rising flour
Melt butter and cocoa together in a heavy saucepan over low heat. Remove from heat and add sugar. Add eggs and vanilla. Sift flour and add last. Pour into greased 11 X 13 pan and bake 25-30 minutes at 350 degrees.
Pumpkin Sheet Cake
1 (15 ounce) can canned pumpkin puree
2 cups white sugar
1 cup vegetable oil
4 eggs
2 cups all-purpose flour
2 teaspoons baking soda
1 teaspoon ground cinnamon
1/2 teaspoon salt
DIRECTIONS
In a mixing bowl, beat pumpkin, 2 cups white sugar, and oil. Add eggs, and mix well.
In another bowl, combine flour, baking soda, cinnamon and salt. Add these dry ingredients to the pumpkin mixture, and beat until well blended. Pour batter into a greased 15 x 10 inch baking pan.
Bake at 350 degrees F (175 degrees C) for 25 to 30 minutes, or until cake tests done. Cool.
Also works well as cupcakes or a bundt cake. Cover with the numminess of the following frosting recipe!
ICING:
1 (3 ounce) package cream cheese
5 tablespoons butter, softened
1 teaspoon vanilla extract
1 3/4 cups confectioners' sugar
3 teaspoons milk
1 cup chopped walnuts
In a mixing bowl, beat the cream cheese, butter or margarine, and vanilla until smooth. Gradually add 1 3/4 cups confectioners' sugar, and mix well. Add milk until frosting reaches desired spreading consistency. Frost cake, and sprinkle with nuts.
Posted in Cooking | No Comments »
"If you want to live a happy life, tie it to a goal, not to people or things."- Albert Einstein
Something that bothers me to the extreme is how attached some people get to items. I can understand sentimental value. A few things in my home have been with me for years, mementos of certain people or times. But, hoarding and attaching signifigance to the smallest thing results in a cluttered home and mind. The constant worry of if something is 'safe' from your children, partner, or guests is stressful. Packing it carefully away reduces it's real value.
And what is the real value of a sentimental item?
The memories. Yes, the set of dishes your grandmother used on holidays or other special occasions may mean the world to you. But what satisfaction comes from having it packed away? The memories came from the use of them…and how can memories continue to be forged if you wrap them in newspaper?
Handling and using the things that come from ones you loved is the best way to honor them. Of course, some things might be too fragile for everyday use. If finances permit, check into preservation/restoration services. A quilt can be hung on a wall, plates placed in a hutch, and small things like Granpa's pipe and pocketwatch could make a lovely shadowbox.
Build your memories, don't pack them away.
Posted in Daily Living, Mental Health, Stress Management | No Comments »
Do you have a favorite food that brings back comforting memories of childhood or another special time? If so, you're just like millions, if not a few billion others.
Comfort food is usually a home cooked, simple, and inexpensive dish or meal. Macaroni and cheese is a typical comfort dish that spans the U.S., while there are regional favorites. I'm originally from the South Eastern U.S. and like many others from that area, barbeque, chicken dumplings, friend chicken, and mashed potatoes remind me of home and sweeter times.
I think my favorite comfort food is a breakfast scramble, though. Breakfast was a relaxing thing for me as a child, a time to slow down before running out of the house for school. My grandmother always made sure the morning meal was perfect for the day to come. Every breakfast seemed tailored, just right for whatever came my way. In the fall and winter months when the weekends came or holiday vacations finally rolled around, grandma made another southern favorite: Fried Taters and Onions.
Ok, so that might sound more like a side dish for dinner, but hear me out. It's one of the easiest one dish breakfasts around and can have just about any of your normal breakfast ingredients included. Some people use a frying pan, while others use a deep pot. I am one who prefers a deeper pot with sturdy handles due to everything I throw into mine!
I don't have a set recipe, so I'm going to be general with the amounts of everything. It's more a matter of taste than an exact science.
First, scrub your potatoes. Use whatever kind you like the best, though a dry baking potato will give the best texture. I usually use six or seven large, sliced into rounds or cut into tiny cubes like home fries. Chop one medium onion. Drop it all into a hot pan that you have melted butter in, or coated with olive oil. Cover and check occasionally, stirring until done. The potatoes will be brown in some places, crisp with soft insides.
Ok, now your 'Taters and Onions' are done, but if you want a great scramble, add in beaten eggs, cooked bacon or sausage, just about any meat or vegetable you enjoy. Cheese makes a great topper after the eggs are cooked firm.
Mm. I think I am going to go have a Scramble now.
Posted in Lifestyles, Cooking | No Comments »
"I long to accomplish a great and noble task, but it is my chief duty to accomplish small tasks as if they were great and noble."
Helen Keller was born into a life of darkness and silence, yet she overcame these limitations to live a life that lit the darkness for others. The smallest effort is great if it is fufilled to the best of your efforts and talent.
Are you a single mother? A single father? Maybe you are just someone who spends each day going through the motions of living. When was the last time you took a moment to note the good things you do each day? Perhaps you read a book to a child, held the door for someone at the market, or even just made that first cup of coffee for your partner.
Each of these selfless tasks are noble. Every person has something of the great and noble in them and it doesn't take aspiring to moving mountains to show the world. Just opening your heart to the tiny kindness that each of us perform each day is enough.
Posted in Lifestyles, Daily Living, Mental Health, Stress Management | 1 Comment »
Hey all you vegans out there and those of you who want to try out a great veggie burger with some south of the border taste…Vegetarian Times published this recipe for Hot Tamale Burgers in July and I thought I would share it with you. Even if you're not a vegan or vegetarian you'll love the recipes put out by Vegetarian Times. Pick up an issue if you haven't!
1 Cup short grain brown rice
1 1/2 tablespoon olive oil
1 medium onion (finely chopped)
1 small red bell pepper (chopped)
3/4 cup fresh corn kernels (1 med ear)
1 chipotle chili in adobo sauce, minced, plus 2 teaspoons sauce.
2 cloves garlic, minced
1 teaspoon ground cumin
1 teaspoon salt
1/3 cup instant masa harina or yellow cornmeal
1/2 cup chopped cilantro
1 1/2 tablespoon fresh lime juice
3/4 teaspoon lime zest
1- Bring the rice and 3 cups of water to boil in a medium sauce pan. Reduce heat to low, over and simmer 40 min or until the water is absorbed and the rice is tender.
2- meanwhile, heat oil in a large skillet over medium heat. Add onion, bell pepper, corn, chipotle, adobo sauce, garlic, and cumin with the salt. Sauté 2 minutes, then reduce to low heat. Cover and cook 15 minutes or until the veggies are tender. Whisk 1/2 cup water with the masa harina in a bowl. Add to the skillet mixture, cover, and cook on low 10 minutes more. (mix will feel like thick cornmeal mush)
3-Remove from heat and stir in hot rice, cilantro, lime juice and zest. Cool for 20 minutes. Wet hands and shape the mix into 8 large patties. You can make smaller ones, too. Pop'em in the fridge for 30 minutes.
4- Prepare the charcoal or gas grill for medium heat. Brush the burgers with olive oil, along with the rack. Grill 7 minutes per side or until crusty on the outside. (Less time for smaller burgers)
Yummy, yummy! Top these guys with some smoky cheddar or Monterey jack, be sure to put the cheese on a few minutes before removing from the grill. Toast your buns for extra flavor.
Special thanks to Stacey for giving me the inspiration for this post!
Posted in Cooking, Healthy Eating, Nutrition for Adults | 4 Comments »
Forget injuries, never forget kindnesses. -Confucius
I'm trying really hard with this one today. It seems that people are more inclined to remember injuries and to be honest, I'm one of them. Learning to let go of personal injuries to the emotions is a hard lesson, but not impossible. Lately I've been playing the 'glad game'. Remember PollyAnna? If you've never read that book, take a chance and read it.
The 'glad game' is taking the time to think of ways to be glad over everything that happens to you. The harder it is, the better it is for your soul. For example…you didn't get the promotion you wanted or a job you wanted didn't come through. Well, perhaps you can be glad that you don't have to spend the extra time on the job and you can spend it with your loved ones instead. Maybe you need eyeglasses, but you can be glad you are not blind, and so on.
The Glad Game is hard, but easier than living with constant regret.
Posted in Conflict and Anger, Character Development, Mental Environment, Stress Management | No Comments »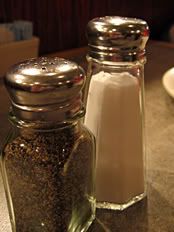 Do you need to change your diet to include more healthy foods? There are still pleanty of foods you can enjoy, especially if you use substitutions. Sometimes it may be hard to figure out what you can use in place of another ingredient. To help you with this change, I offer a list of healthy substitutions for commonly called for ingredients.
1 Baking Chocolate Square- 3 tablespoons carob powder from the health food store and 2 tablespoons of water.
Butter or Margerine- Vegetable oil, sesame oil, or tahini butter in the same amount called for of butter or margerine.
1 cup of Buttermilk or Sour cream- 1 cup of low fat yogurt, 1 cup of milk plus 1 tablespoon lemon juice
Cornstarch- Arrowroot, agar agar
Cottage Cheese- An equl amount of tofu
Ground Beef- Use the same quantity or weight in ground nuts, soy beans, tofu crumbled, or textured vegetable protein.
1 egg- 1 tablespoon arrowroot or 1 tablespoon cornstarch. This works well in baking.
Milk- Soy milk or nut milks. Almond milk is especially nutritious and tasty.
Peanut butter- Use other nut butters such as hazelnut, walnut, almond, or cashew butters.
To replace salt you can use salt substitute or make your own mix of dried herbs. There are many different recipes for dried herb mixes that you can place in your own shaker and use to season your food. If you have spices and herbs that you favor above others, try experimenting until you have your own secret mix to season all of your favorite recipes.
Posted in Cooking, Healthy Eating, Healthy Living, Nutrition for Adults | 4 Comments »