Archive for the 'Only Children' Category
SpongeBob. You either love him or hate him. I am in the love camp because as silly as he is, SpongeBob has some great lessons built in. The little yellow guy is himself, all of the time, without regard for what other people think of him.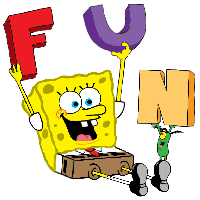 He loves music, too. I picked up the SpongeBob Squarepants TV Theme cd and my kids from the five year old to the one year old danced all over the place. Silly songs, fun beats and a love of all things 'kid', this cd is saturated with those things!
You might have dismissed SpongeBob and the music from the show as too silly for your child, but remember that children love silly things that to an adult make no sense. Take some time to let go for a minute and just enjoy the silliness.
Posted in Parenting, Only Children, Music | 3 Comments »