by Julie Fletcher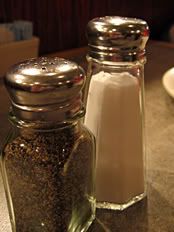 Do you need to change your diet to include more healthy foods? There are still pleanty of foods you can enjoy, especially if you use substitutions. Sometimes it may be hard to figure out what you can use in place of another ingredient. To help you with this change, I offer a list of healthy substitutions for commonly called for ingredients.
1 Baking Chocolate Square- 3 tablespoons carob powder from the health food store and 2 tablespoons of water.
Butter or Margerine- Vegetable oil, sesame oil, or tahini butter in the same amount called for of butter or margerine.
1 cup of Buttermilk or Sour cream- 1 cup of low fat yogurt, 1 cup of milk plus 1 tablespoon lemon juice
Cornstarch- Arrowroot, agar agar
Cottage Cheese- An equl amount of tofu
Ground Beef- Use the same quantity or weight in ground nuts, soy beans, tofu crumbled, or textured vegetable protein.
1 egg- 1 tablespoon arrowroot or 1 tablespoon cornstarch. This works well in baking.
Milk- Soy milk or nut milks. Almond milk is especially nutritious and tasty.
Peanut butter- Use other nut butters such as hazelnut, walnut, almond, or cashew butters.
To replace salt you can use salt substitute or make your own mix of dried herbs. There are many different recipes for dried herb mixes that you can place in your own shaker and use to season your food. If you have spices and herbs that you favor above others, try experimenting until you have your own secret mix to season all of your favorite recipes.
This entry was posted on Friday, September 14th, 2007 at 1:23 pm and is filed under Cooking, Healthy Eating, Healthy Living, Nutrition for Adults. You can follow any responses to this entry through the RSS 2.0 feed. You can leave a response, or trackback from your own site.